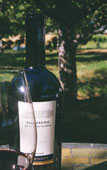 ENOTECCA WINERIES
There is a perceptible difference in temperature and greenery from the lushness of the north to the sage ridden desert in the south. All the vineyards have either spray irrigation or drip irrigation, due to lack of rainfall. The grapes from the Bordeaux region, Cabernet sauvignon, Merlot, Cabernet Franc, Malbec, Malbec and Petite Verdot, excel in this climate.
The grapes of the Rhone Region, Syrah, Viognier and Grenache, are becoming more popular and are now thriving in this dry weather.
The hot days allow the grape to mature on the vine, reaching maximum ripeness, while the cool nights allow a balanced progression toward ripeness, so grapes wont overcook on the vines.
Our 49 degrees latitude gives us longer sunlight during the day, which allows the grapes longer hang time to ripen. This combination of hot days, cool nights, and long day light hours, allow grapes to develop a complexity that is optimal for wine making.